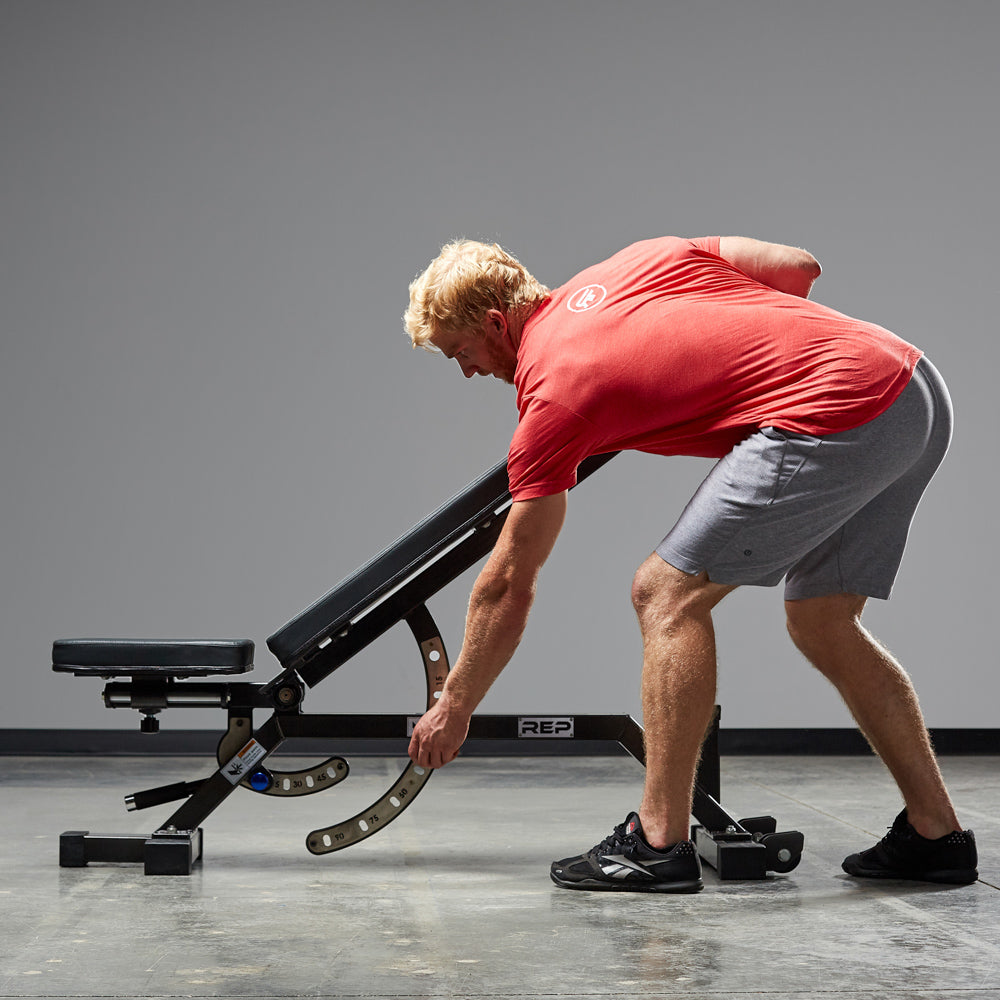 So, you a baller. You understand the value of a high-quality, adjustable bench, and you want the best. One. Possible.  
We see you.  
The 5000 Series adjustable benches are your playground. These are REP's highest-end benches, with elevated details, the highest weight capacity, tons of back and seat pad angles, and other outstanding features. But with five different options, how to pick? Here's some help.  
Don't like to read? Here's a chart comparing the 5000 Series benches. 
If you prefer pop-pin adjustments …
The AB-5000 and AB-5100 are the two premium, pop-pin adjustable benches. Some people prefer the security of locking a pop-pin into the hole, rather than a ladder-style system. Both these benches have the same number of angles (35 total), work with the Leg Roller Attachment to allow for decline exercises, have a 1,000lb weight rating, fall within International Powerlifting Federation height guidelines, are 11-gauge steel, have wheel guards, laser-cut degree markings, and standard, sticky, vinyl pads.  
A big difference is in the details of the pads.  
The AB-5000 features ZeroGap™ Technology, which allows you to slide the seat around to remove the gap between the seat and back pads. This is especially nice when doing flat bench. You can also order a wide pad for the AB-5000.  
The AB-5100 has a 3.1" pad gap (the biggest gap among the premium benches), but it offers a seat that tapers for comfort. It also has the smallest footprint (7.5SQFT) when in use (not storage), making it great for small gyms. This bench has the fewest color options to pick from (three), but it does have an extra narrow front leg, so you have plenty of space for your feet.   
If you want a high-end incline bench …
AB-5200 with Spotter Platform
Not everyone wants or needs a decline bench, and if that's not a priority for you, the AB-5200 is a gorgeous flat-incline bench. While it has the fewest total number of angle options and doesn't fall within IPF height guidelines, it does feature a closed ladder adjustment system that allows for space-saving vertical storage.
But a huge selling point is this is the only adjustable bench that works with the Spotter Platform, which really levels up the bench's functionality (and looks pretty pro).  
If customization is key ...
AB-5200 2.0 in black and white
The AB-5200 2.0 is the most customizable REP bench. Choose a fixed post or adjustable post; the latter gives the bench decline options. You can personalize it even more by selecting a frame color, with a different accent color on the guide rails – in total, making 12 color options. You can also choose a standard or wide pad right from the get-go. No need to order a wider pad separately.   
If you want to hit every possible angle …

Go with the BlackWing, which has the most angle combinations (72) straight out of the box – plus even more when you combine it with the Leg Roller Attachment. The BlackWing's back pad angles are -8, 0, 10, 20, 30, 37.5, 45, 52.5, 60, 67.5, 75, and 85 degrees. Its seat pad angles are-10, 0, 8, 15, 30, and 45 degrees.  
Then, the Leg Roller Attachment connects to the end of the back pad, turning all those incline angles into decline angles. This allows for super challenging ab work and steeper decline pressing exercises. You can also attach the leg roller upside down to do Nordic hamstring curls. All the variations!  
There are many more highlights for each of these benches, so make sure you check the individual listings.