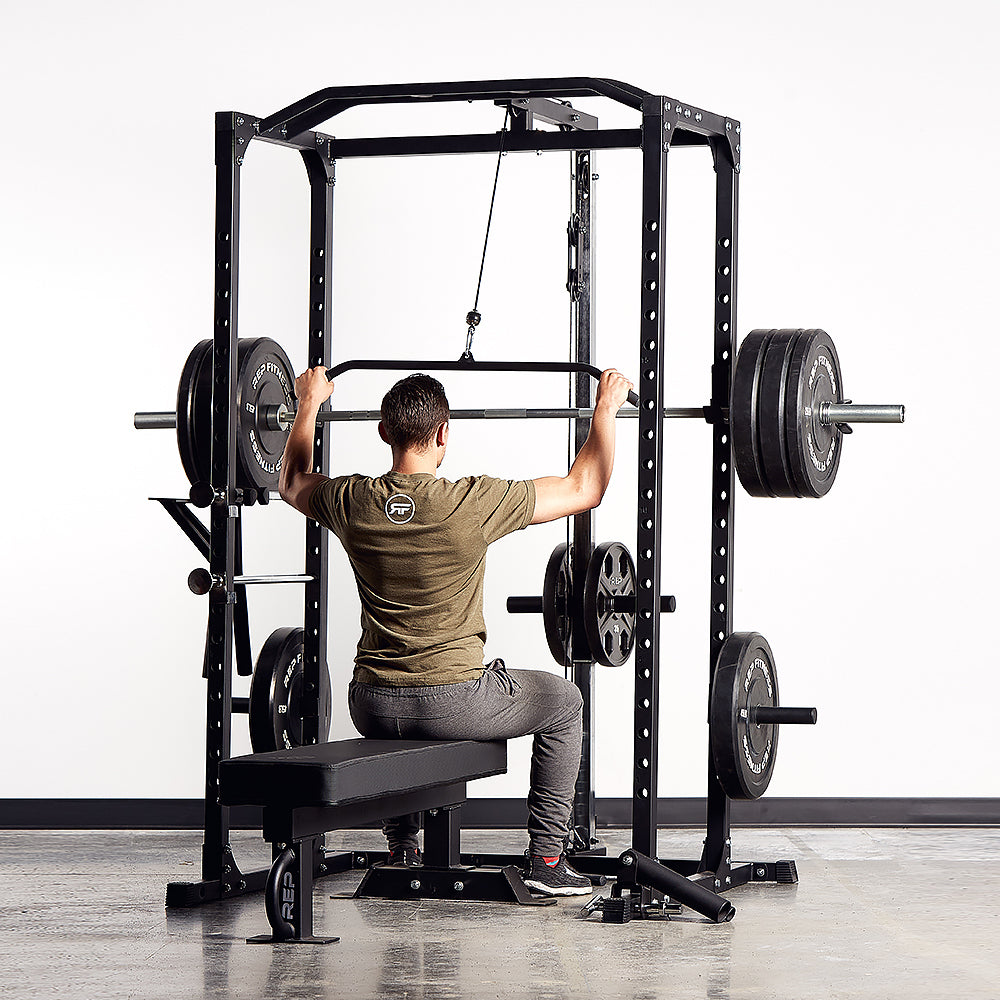 Basic gets a bad rap. But it doesn't have to. Basic can be baddie, too.  
Whether you have a PR-1100, the PR-1000, or even the PR-1050 Short Power Rack, there are tons of ways to spice it up.  
Add some color.
The PR-1100 comes in four different colors: red, blue, black, and metallic black. Go with a fun color, like blue or red, to make the rack pop. Then coordinate with a colored bench. Even the basic FB-3000 flat bench comes in those four color options. Or if you want the most budget-friendly adjustable bench, the AB-3100 can be any of those colors, too.  
Bring the cables home.
You don't need to buy a separate functional trainer to get in some cable work. Connect a Lat Pulldown and Low Row Attachment to your 1000 Series rack and get the functionality of a cable machine without taking up much extra space (it adds 17" to the rack's depth and is only slightly taller than the uprights). It even comes with a lat bar and straight bar. The lat pulldown attachment works with the PR-1000 and PR-1100.  
Keep adding handles. As soon as you have the Lat Pulldown and Low Row Attachment, it's easy to keep pimping out your rack. It is compatible with tons of other add-on cable attachments, like the triangle row or neutral grip lat bar. You can just keep adding options over time.  
Or the Pro Series Package gets it done in one click. Save money and add more options to your cable attachment with this package that includes one Pro Series Triangle Row Attachment, one Pro Series D-handle, one Pro Series Neutral Grip Lat Bar, one Pro Series 48" Lat Bar, and one Pro Series Straight Bar. Yes, pro-level handles for a budget-friendly power rack.  
Add a Dip Station.
Enhance your 1000 Series rack with an easy-to-use Dip Attachment. This sucker can handle 400lbs, and it's compatible with all the 1000 Series racks. Read more about the benefits of adding dips into your workout -- and how to progress them over time. This small attachment packs a big bang for the buck.  
Attach a Landmine.
A Landmine Attachment is surprisingly versatile, and it's super easy to hook up to your 1000 Series Power Rack (all of them). Use it for landmine presses, rows, Russian twists, single-arm bent-over rows, and more. Here are different ways to use a landmine. Transform your basic rack into a total beast. 
Organize it.
Round out your home gym (and make it much easier to use) with smart organization. Even if you don't have much wall or floor space, your 1000 Series power rack can double as a storage unit. Throw on some simple-to-use Weight Horns (9"). Use them to store your weight plates on your rack without a separate storage unit taking up floor space. Plus, if you don't like putting equipment together, you can just slide these into your uprights like a J-cup. No tools needed.
Or for a little more effort, you can attach a full 1000 Series Weight Storage unit to your rack. This can hold 2,000lbs of weight. It includes eight different chrome-plated, steel weight horns, each 8" long. Plus, this unit can hold two barbells vertically and out of the way. And it works with the Lat and Low Row Attachment, so no need to pick just one. This unit works with the PR-1000 and PR-1100.  
Here are some more tips on how to keep your home gym organized.  
Don't forget the floor.
Complete your home gym (and protect your floors and equipment) by adding nice gym flooring. Here's a full look at gym flooring options so you can pick the perfect one for your space and needs.