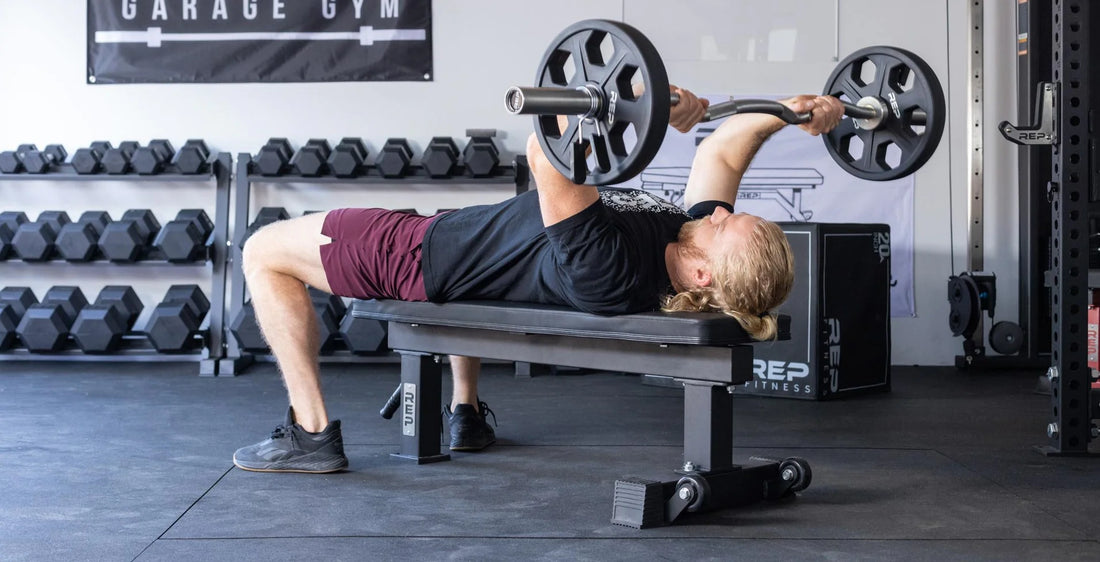 A high-quality weight bench is one of the first and most important pieces of equipment in a gym. Whether for bench pressing, step-ups, box squats, or split squats, there are tons of uses for a flat bench.

A flat bench is just what it sounds like: The single pad is flat and parallel to the floor, and that pad does not adjust into an incline or decline position. All flat benches are not the same. REP Fitness offers several types of flat benches, each designed to meet different needs. You'll find benches with different legs; wide pads or standard; various weight capacities and storage options. Flat benches are also more affordable than most adjustable benches, so if you don't need incline or decline options and are on a budget, these will do the trick. 

Here's a look at REP's flat benches to help you pick the perfect one for your gym.

Note: All flat benches feature:
A grippy vinyl pad that's slip-resistant, durable, and easy to clean

International Powerlifting Federation competition height

Precise manufacturing with state-of-the-art robotics


REP's Flat Benches
FB-3000: The Standard Flat Bench

FB-5000: The Competition Flat Bench

Note: The FB-4000 and FB-5050 have been discontinued.


FB-3000: The Standard Flat Bench
The FB-3000 is a solid, 11-gauge steel bench suitable for both recreational and competitive lifters. Its super grippy pad will hold you in position. It also features four legs, rather than three, which adds stability for other exercises like step-ups and split squats. FB-3000 is compatible with REP's wall-mounted bench hanger, so you can store it up and out of the way to save space. It's the lightest bench, at 40lbs, but it can handle a 700lbs load.
FB-5000: Competition Flat Bench
Serious lifters will appreciate this hardcore bench, made with 11-gauge steel with a capacity of 1,000lbs. It features a tripod foot design, so the legs are out of the way when you're benching. The 4" thicker pad made from heavy-duty vinyl will hold you in place, and it can be swapped out for a wider pad, if needed. Although this bench can handle a heavy load, it only weighs 62lbs and takes up 7.36SQFT of space, and the steel handle and wheels make it easy to maneuver. 
Learn more about the FB-5000 here.
If you want a competition flat bench but with a wider pad, the FB-5000 also has the option for a wide pad. The wide pad is two inches wider (14") and 4" thick. It's textured to lock you into position and firm, yet not rock hard. Learn more about the different kinds of bench pads (and pros and cons of a wide pad) here.