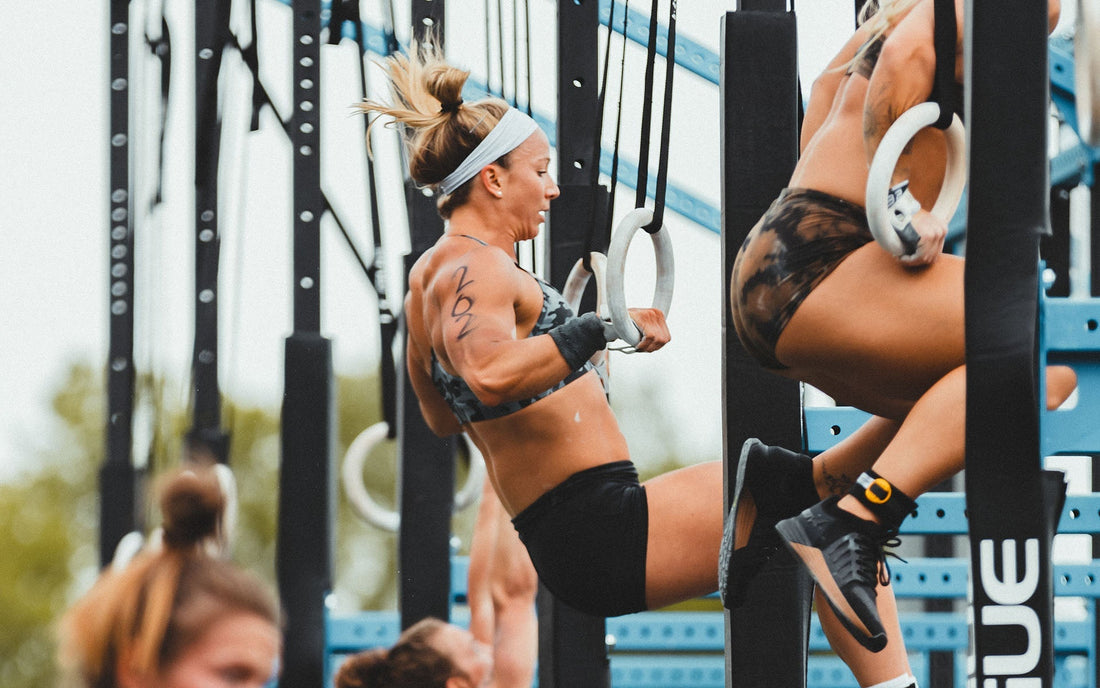 Amanda Barnhart's not new to the pressure. It's her fifth time qualifying for the CrossFit Games, with three consecutive top-10 finishes. This year, she's bringing the fire. She's aiming to break the top five.
She's putting in the work to get there, too – training everything and anything that could come up in the August competition. Swimming, biking, running, lifting odd objects, climbing, gymnastics, handstand walks, you name it.
"Making sure you get touches on all of the weird stuff is important," she says. "And everyone's still hammering out the biggest holes they can fill. For me, that's upper body – pulling – and running."
The fittest athletes show up at the end, she says. So she's working hard full-time to get as fit as possible, while managing nutrition and recovery. "I'm packing it all in. I've had to tell people, 'I'm sorry. I'm just a shell of myself for the next eight weeks,'" Barnhart says. "You're so tired, all you can do is eat, sleep, and workout."
That's far from a complaint, though. Barnhart loves every second of it. And the hardest days are her favorite. The hard days point to opportunities for improvement. That drives her.
"I think about how I want to feel at the Games. I remember the moments I was last place or broke down in a workout. I remember how painful those moments were," she says. "I don't want to feel like that again. So I do everything I can to avoid those moments."
Pushing the Limits
One half love of the game. One half growth through the pain. That's what motivates one of the world's top female CrossFit athletes.
In CrossFit Open, Barnhart is currently ranked 20th in the world and 10th in the United States. In addition to being a professional CrossFit athlete, Barnhart has a doctorate degree in physical therapy. Competition runs through her blood; she swam Division 1 in college at Cleveland State, played sports in high school, and was a gymnast for 10 years. In college, she started CrossFit to help with swimming.
As much as she loves CrossFit, Barnhart says she considers team sports just as important, especially for young athletes.
"CrossFit is a great exercise tool, but I like to encourage people to stay in sports," she says. "Do sports with your friends, feel the camaraderie of a team, play a sport in college. Do CrossFit after that. There's a whole world of sports out there that kids are missing out on because they just want to be in the Games."
She didn't begin competing in CrossFit until after she graduated from PT school. Other sports helped shape her perspective on how to approach a physical challenge.
"You get to a point in the workout where it hurts. You're wanting to quit. And you manage to push through that point. It feels so good to go to those limits," Barnhart says.
In CrossFit, those limits are moving targets; things are always changing. As soon as you get good at one skill, she says, there's something else to work on. "It's cool to see the progress – to look back and remember when you thought something would never be possible, and now you're doing it," she says.
In fact, those growth moments are her proudest accomplishments. Not the easy wins. The comebacks. When she didn't climb the pegboard in 2018 but came back the next year and climbed it five times. The time she got last place in muscle-ups. The next year, after tons of practice (150 muscle-ups a week for four months), she landed in the top-10 for muscle-ups.
"To feel the hard work pay off, that's the most satisfying. Other people don't even notice those moments, but the people in your circle know," Barnhart says. "On the leaderboard, it's not a win, but for me, those moments mean a lot more than getting first in a workout I knew I was going to crush."
Now in her fifth year competing in the Games, Barnhart says she's focusing on consistency across the board in all the workouts, rather than aiming for a few big wins in a meet. The bigger picture.
"I've been an athlete that can win workouts and then be in the bottom half in another workout," she says. At the semifinals, she says her goal was to just have a consistent weekend. And it worked. She's taking that approach to the big meet, too.
"I have no control over how fit other athletes will be, what the workouts are, how hot it'll be," Barnhart says. "Instead, I want to focus on every little thing I can do to do my best."