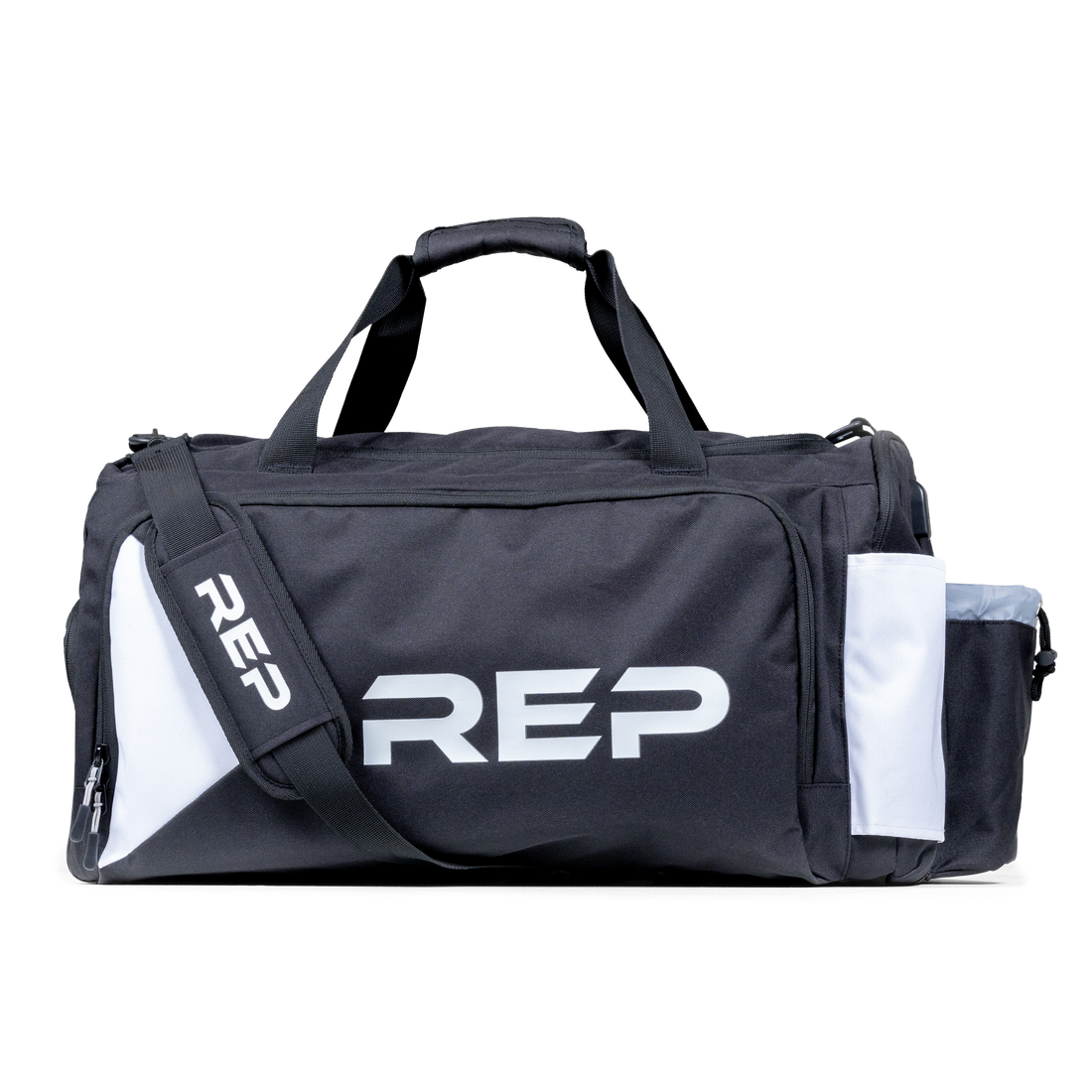 A good gym bag is so much more than a bag. It needs to bring organization, cleanliness, comfort, and enhance your lifting experience. Like have the ability to charge your phone or headphones -- because nothing can wreck a workout quicker than a dead pair of earbuds when the rec center is blasting "My Heart Will Go On." 
Whether you need to transport your wraps, straps, and ball caps to a commercial gym, you're packing up for a warm workout in the park, or you want to store and organize your gym gear all in one spot in your home gym, a gym bag can be super useful. But not all gym bags are created equal.  
Here are some of the features to look for when buying a gym duffel:  
1. Pockets, pockets, pockets
Just like with women's clothing, ample pockets are a delight – and keep your gear in order. Look for a separate pocket for your water bottle or shaker cup; a good mix of inside and outside pockets; a mixture of zippered compartments and open ones; some mesh pockets, as well as solid ones; and if you can find a gym bag with a vented pocket, you'll be glad. (See #3.) 
2. A water-resistant lining
Most gym bags are made from some kind of polyester and/or nylon material. But do yourself a favor and make sure the lining is water-resistant. Inevitably, you're going to carelessly toss a shaker cup in your bag without closing the lid right. If you can't wipe that down and keep it from leaking all over your car, you can expect weeks of dry heaving. A water-resistant lining also keeps your sweaty knee sleeves in check. In a facility built for sweating, you need a gym bag built to handle a little moisture.  
3. A place for the gross stuff
On that note, you will want to keep your sweaty gym clothes separated from the rest of your gear. Look for a gym bag with an easy-to-access (read: easy-to-remember-to-throw-into-the-laundry) pocket for your nasty socks. Bonus points if that pocket has vents.  
4. A home for your shoes
Shoes need their own home – whether you wear special squat or deadlift shoes, or you want to always know where to keep your indoor-only basketball kicks. If you exercise outside, a special shoe compartment can keep the dirt, mud, and dust from your soles contained.  
5. Plenty of space
There's no point in a small gym bag. That's useless. Make sure it's big enough for everything you need. Gym bags typically measure their size in liters, which is kind of funny since gym equipment isn't liquid, but at least you know exactly how much sweat your bag can handle if you're taking a hot yoga class.  
6. A USB port
Until the technology gods can come up with a way to not keep us all tethered to cords, we need easy access to charging options. Look for a gym bag with a built-in USB port for a USB charger. That way, you'll never have to worry about dead earbuds or lack of Spotify during your workouts (we know you aren't scrolling Instagram between sets).  
7. Various ways to carry it.
It's convenient to have various straps, like smaller handles, as well as a cross-body-style strap. Look for straps that are padded to make it comfier to carry.  
8. A warranty
The last piece of a good gym bag is a guarantee of quality. Look for a year warranty or so, in case something breaks or goes wrong. This is about peace of mind. Which we all need more of. 
Looking for a bag with it all?
Check out REP's gym bag here. (Spoiler alert: It checks all these boxes.)