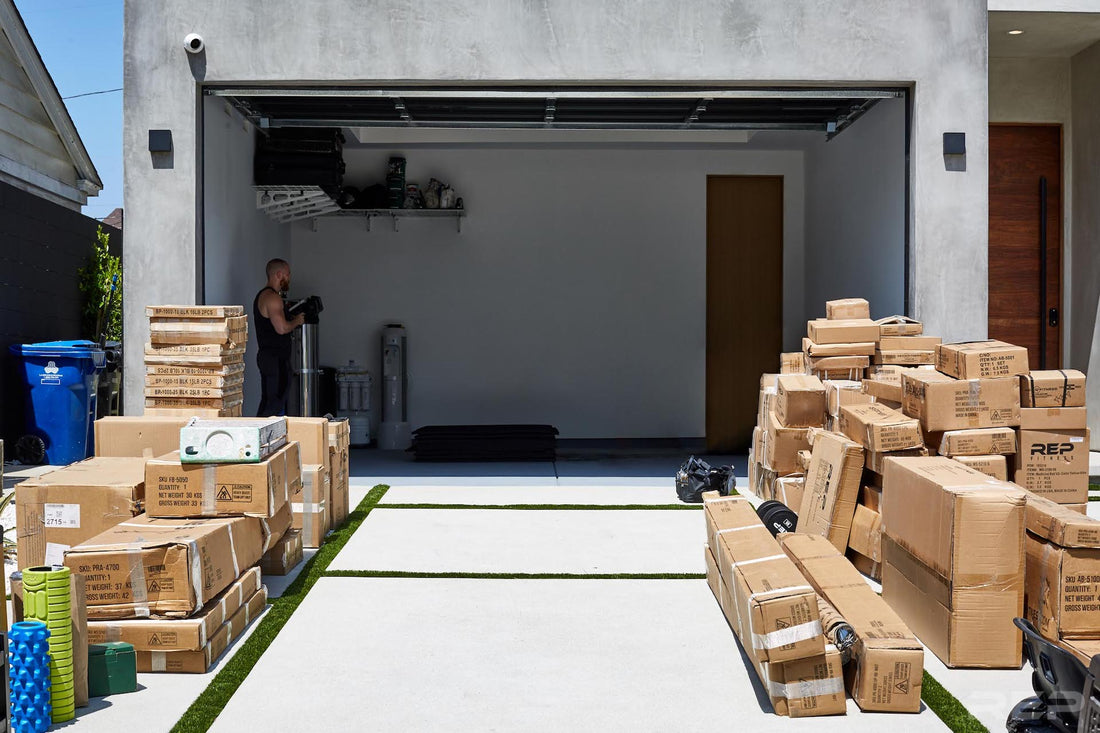 A bunch of boxes arrive at your door. It's the pieces of your new home gym. Now what?  
As you're building out your new home gym, here are some tips and tricks to keep in mind.  
1. Pick the right space.
Before unboxing, make sure you have picked the right space for your home gym. Whether it's in your garage, basement, or an extra room, ask yourself if it has enough space and the right energy. For example, some people prefer to see their gym equipment, so they remember to use it, whereas others want it to be private and away from life distractions (like that pile of towels eternally singing your name).  
If the layout or vibe is off, what changes can you make to optimize the space? You might need to relocate other furniture or store your off-season Christmas decorations elsewhere. Start with the best foundation possible to build upon.
2. Use the walls.
An organized home gym is a happy home gym. Here are some tips on how to keep your home gym organized.  
A big tip is to utilize your walls for storage, especially if your space is limited. Hang bands and bars on a Multi-Use Wall Storage unit and medicine balls on the Mounted Ball Storage rack. You can even hang weight plates on the walls. Shelves and peg boards are your friends.  
You can even get a folding squat rack that attaches to the wall. Just fold it up and out of the way when you're not using it. The rack comes in two sizes: 21.5" deep (which folds in on itself to take up just 6" from the wall) and 41" (which folds left/right to take up 24" from the wall).  
If you can store it on the walls, it won't take up valuable sweatin' space on the floor.   
3.

Make everything easily accessible.

 
While organization is important, you also want your equipment to be easy to use. If you have to climb a ladder and balance on one leg to access your weight plates, you are setting hurdles in your way of your success. Find an easy-to-access home for everything you need, down to sweat towels and water. Design your home gym to be effortless to use. Reduce all barriers possible.  
4. Clean up after yourself.
While a private, home gym is going to be a lot less germy than a commercial gym, don't be gross. Still wipe up your sweat, dust off and sweep up your chalk, use a leaf blower occasionally to clear dust and debris out of your garage, and wipe down equipment with a disinfectant and cleaner. This will keep your space nice and welcoming, as well as help your equipment last longer.
5. Minimize distractions.
The biggest challenge of working out from home are the distractions. There are infinite excuses. Dishes need to be put away. Dogs need in and out and in and out. Oh yeah, that stupid pile of towels.  
You have to let that all go – for just an hour.  
Do whatever is necessary to reduce distractions. If putting your home gym in the basement next to the washing machine will make it difficult to focus on your squat form, set it up in the garage instead. Or buy a room divider to block the laundry pile.  
6.

Design

intentional

inspiration.

 
In addition to minimizing the things that don't motivate you, play up the things that do. If you're musically driven, install nice speakers, get an Amazon Echo, or other Bluetooth sound system. No more headphones popping out of your ears when you clench too hard. And unlike a commercial gym, you can play any music you want as loud as you want (HOA willing). No more sad T-Swift songs on repeat (sorry, Swifties) when you want to angry lift.  
Hang up posters, signs, or flags that make the space feel special. What drives you? The mountains you want to climb? A beach vacation next summer? Your child with special needs? Consider incorporating reminders of your "why" into your space. 
Choose colors that invigorate you, like a red power rack or bench. Paint the walls, frame important photos, write out your goals and hang them where you can see them, or install lighting that makes you look (and feel) strong and powerful.
7. Personalize your gym.
Details matter. And a cool thing about REP power racks and equipment is the many configurations and personalization options. Make your gym reflect your unique personality and preferences.  
Design your space around your fave sports team. Make a special corner for your gym dog. Hang up a TV for your kids (or to watch movies during steady-state cardio). Hang mirrors wherever you want – or not at all. 
Set up a tripod if you like to record your sets or a ring light for physique check-ins. If you want to hang up posters of The Rock on the ceiling to look at while you bench, go for it. Who knows? It might make you lift more.  
Personalization is more than just aesthetics. It's also about functionality and helping you meet your unique goals.
In that, you can also customize your attachments and rack. Get two sets of J-cups: one for your squat height and one for your bench. Then they're always ready for you – no adjustments needed. 
All home gyms don't -- and shouldn't -- look the same. Practicing the "big three?" Here's what you need to build a powerlifting home gym. Or here's what a pro Strongman recommends for an at-home Strongman gym. 
Want more inspiration? Here are seven ways to add some style to your home gym.  
8. Keep time.
This one is simple but helpful. Hang a clock on your wall so you can keep track of the time. It's easy to get carried away by a good workout at home, when no one else is waiting for the squat rack. You can also use a clock to keep track of your rests, EMOMs, and WODs. So many acronyms.  
9. Set up a mini kitchenette.
OK, we getting fancy now. But think about how nice it would be to have a mini fridge stocked with cold water and protein shakes, and a Nespresso machine nearby, just waiting to dispense a shot of espresso before your next PR attempt. If you're the kind of powerlifter who worships Sour Patch Kids, make yourself a candy jar. We know how you do. 
10. Light it up.
Lighting is one of the most powerful ways to transform a space, and don't overlook it for your home gym. Especially if you're lifting in the garage or unfinished basement, take some time to install LEDs, strip lighting, accent lights, cans, or other fixtures so you can see what you're doing and stay invigorated. Also, strategically placed cans above a mirror make for nice Flex Friday photos, just sayin'.  
11. Control the climate (as much as you can).
A space heater in a chilly garage in January and fans in a sweltering space in August go a long way. In winter, you can also bring your barbells inside when not in use to keep them from feeling like ice tubes on your hands. If you're cold they're cold. 
12. Stay inspired.
Check out our other stories on gym design here. Topics include: budget home gym products under $50, how to build an at-home functional fitness gym, and how to build a gym in a small space.