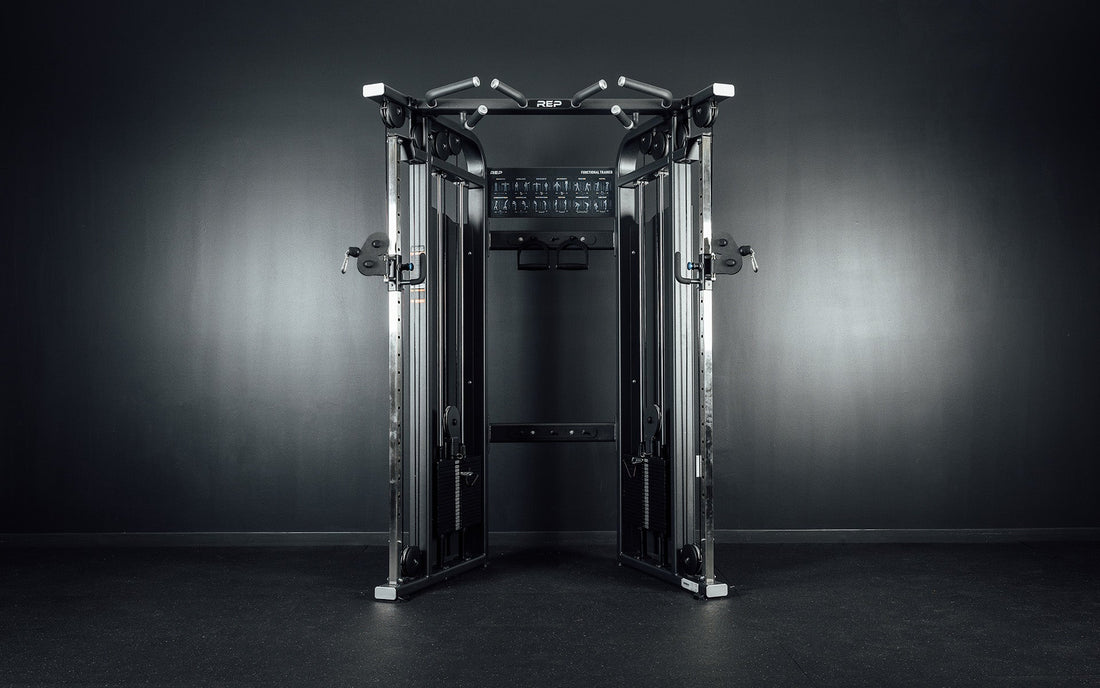 The FT-5000 has earned a reputation for being our hardest-core functional trainer – a way to transform your home gym into a commercial-level swole shop. But as any lifter knows, the growth never stops. And that's true for our Mother of All Functional Trainers, too.  
We recently gave the FT-5000 a major facelift to make it smaller, more versatile, easier to use, higher-end, and overall just more beautiful.   
Here is how the FT-5000 is different than the FT-5000 2.0. 
The biggest difference you'll notice is we added more adjustment points. Instead of 16, it now has 21 -- so you can be sure to have the perfect height for your exercises to feel natural and comfortable. The handles can go higher and lower than before, for a greater range of motion in your exercises.  
And it's easy to line up the handles, with laser-etched height numbers on the inside of the uprights. The upgraded pulleys are also higher-quality: aluminum instead of plastic. Nice and tough to handle whatever you throw at them. 
We also improved the trolley design. The new and improved trolley is lighter and has a smaller profile than the OG. We made it even easier to adjust along the uprights, too, because we know you want a good workout – but not when wrestling the height of your cables. We removed the rollers, reduced some of the material, repositioned the handle (so it's easier to use), and added self-lubricating liners that make the trolley move like buttah.  
We didn't want to fancy up the trolley and pulleys without upgrading the cables, too. So, we added a new, welded ring at the end of the cables to make it fast and easy to add and remove a carabiner. And we extended the cable travel to 86 inches – more than 7 feet.  
The trolleys still have a magnetic-tipped pin to lock weight in place, but we added an extra pin to secure the trolley -- so, you know your weight and the trolley aren't going anywhere. Oh, and the new weight stacks offer a little more weight for you: 448 pounds total, which feels like 224 pounds, due to the 2-to-1 ratio.  
To top it all off, the FT-5000 2.0 comes with a handy, little exercise diagram with 12 different ways to use this bad boy.  
Yeah so, that's a lot of changes! But this is our stand-alone, cable machine queen, so we gave her the full, royal treatment. We want the FT-5000 2.0 to be the best possible cable machine for your home gym, and now it truly is.