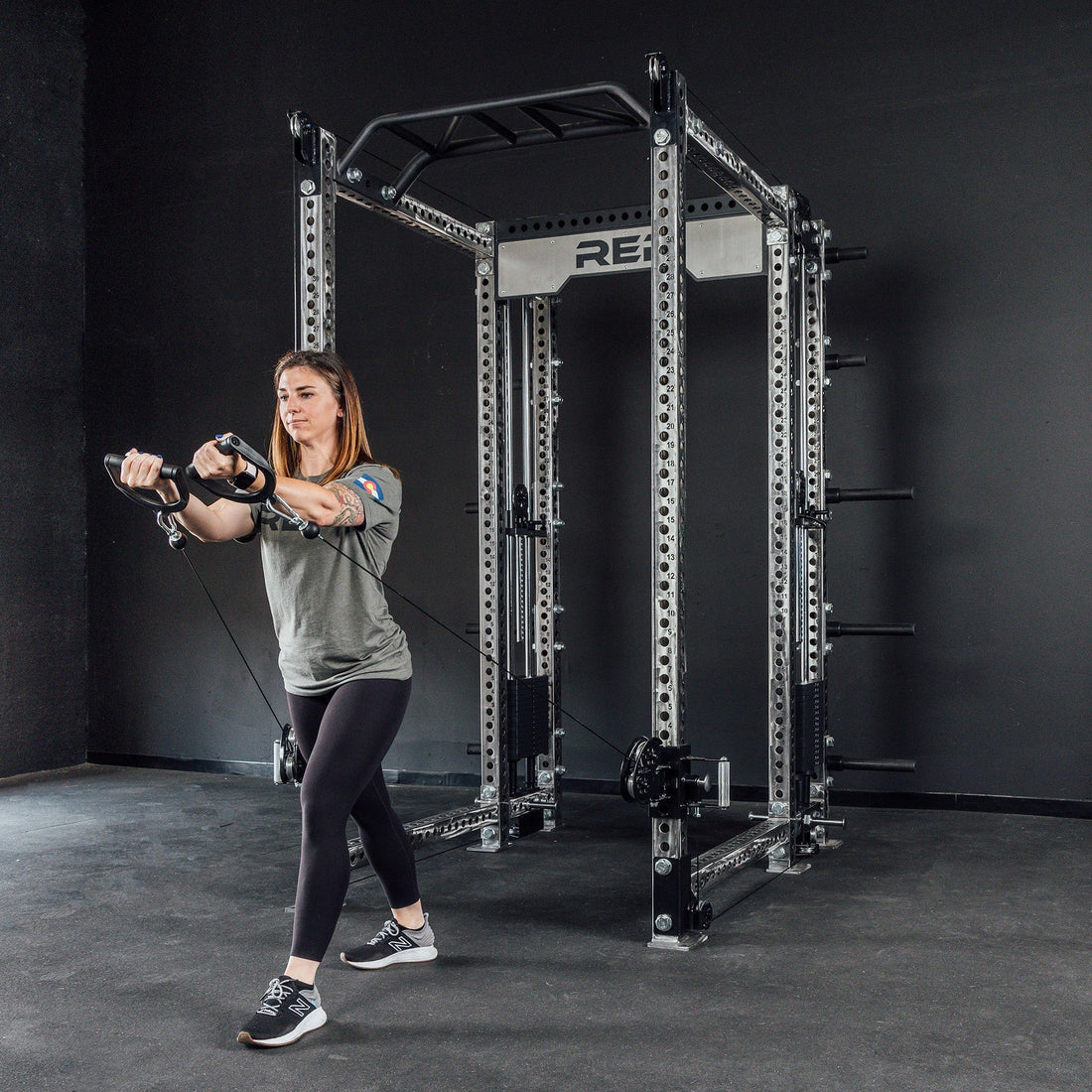 The Athena™ Side-Mount Functional Trainer is a game-changer for your PR-4000 or PR-5000 power rack. Elevate your workouts with this low-profile cable attachment, designed to provide unparalleled versatility and functionality without the need for a bulky standalone unit. 
Key Benefits of the Athena™  
Functional Training: The Athena™ Side-Mount Functional Trainer offers the full functionality of a cable machine, enabling you to target specific muscle groups, accessories, and isolation work like never before. 
Space-Saving Design: Say goodbye to the space constraints of standalone cable machines. The Athena™ seamlessly integrates into your power rack, maximizing your workout space. 
Cost Effective: Compare and save. The Athena™ attachment offers a lower price point and a smaller footprint compared to the Ares™ attachment, although the Ares™ does include a lat pulldown and low row and the Athena™ doesn't. 
2:1 Pulley Ratio: Experience the efficiency of a 2:1 pulley ratio, making 20lbs feel like 10lbs – perfect for functional training enthusiasts. 
Customizable Functionality: The Athena™ offers the freedom to configure your rack's functionality with left, right, or dual-sided setups, providing endless workout possibilities. 
Sturdy and Secure: The patent-pending design features a trolley for versatile cable work at any height on the upright, ensuring your safety and convenience. The oversized pop-pin and added security pin guarantee hassle-free adjustments. 
Premium Quality: Crafted from high-quality materials, the cables are made from galvanized wire with a raw steel core, while the pulleys are built from robust aluminum, with 180-degree swivel front pulleys for maximum versatility. 
Resistance Bands Compatible: Enhance your workouts by attaching resistance bands to the integrated band pegs on the base and headplate. 
Attachment Ecosystem: The Athena™ comes with a urethane D-handle attachment and is compatible with a wide variety of cable attachments, allowing you to diversify your exercises. 
Choose Your Style
Tailor your setup to your preferences. Select between a plate-loaded version with 10.6" loadable weight horns and a 540lb max capacity (feels like 270lbs) or a selectorized version with 170lb weight stacks (feels like 85lbs), upgradeable to 220lbs (feels like 110lbs). 
In addition, there are four different ways to get the Athena™ into your gym: The Athena™, The Athena™ + Rack, The Athena™ + Weight Storage, and The Wall-Mounted Athena™. 
The Athena™

configuration is for lifters who already have a 6-post power rack with 16" weight storage crossmembers or a 5000 Series 4-post 16" rack (only compatible with the selectorized Athena™). This purchase includes the Athena™ only.

 

The Athena™ + Rack

configuration is for lifters who don't have a rack and need to build out everything.

You can choose a plate-loaded or selectorized Athena™ for this.

 

The Athena™ + Weight Storage

 configuration is for lifters who already have a 4-post rack and want to expand to a 6-post rack with the Athena™. This purchase would include the Athena™, Weight Storage Uprights, and Weight Storage Crossmembers.

 

The Wall-Mounted Athena™

is for lifters who wants the ultimate space-saving option (only for the 5000 Series Selectorized Athena™), as the bulk of a freestanding power rack or cable machine is no longer there.

 
Elevate your fitness journey with the Athena™ Side-Mount Functional Trainer, your go-to tool for building strength and achieving your fitness goals. Experience the ultimate in-home gym customization today.