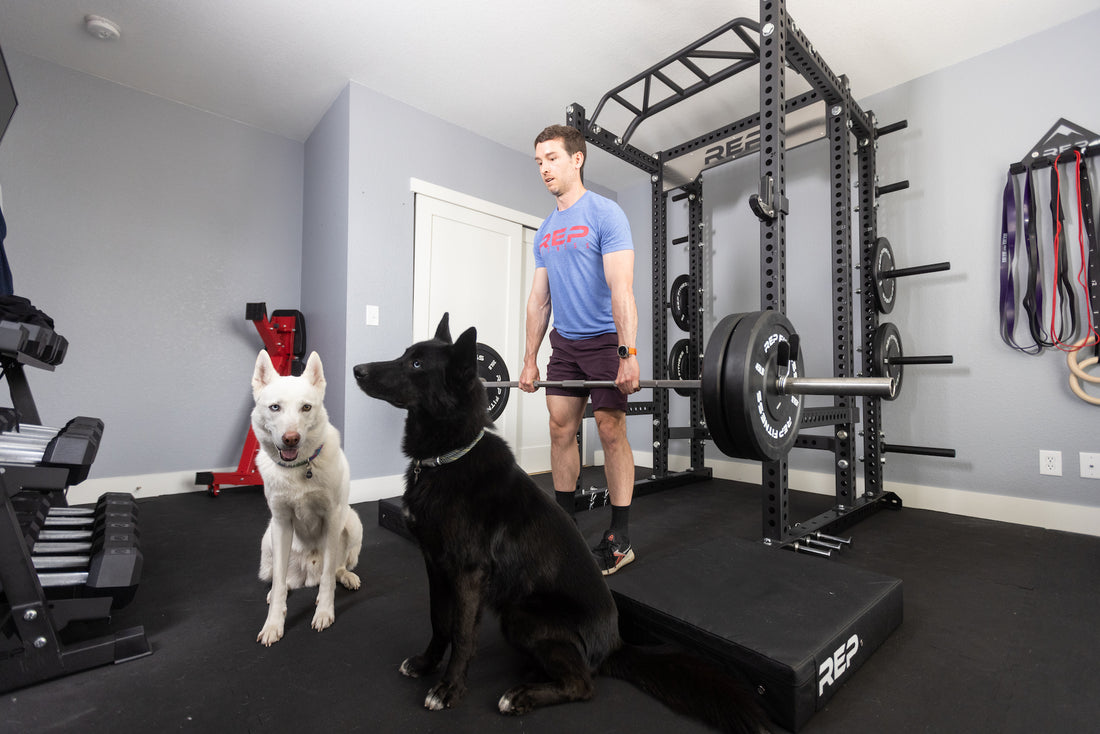 If you want to build a home gym but don't know where to begin, start with the foundation: a power rack.  
A power rack is for so much more than just squats. It's the most versatile part of any home gym, with tons of attachments (and ever more in development). Depending on which attachments you choose, your power rack can be the centerpiece for almost all work you're going to do in your new gym.  
"Choose" is the operative word here; power racks are incredibly customizable. Here's a closer look at the three steps to customize your power rack.   
Step 1: Pick your rack.
First, you want to decide which style of rack is best for you, based on your personal needs, goals, budget, space available – and also your future. When selecting a rack, think five or so years out. Consider your potential growth and what attachments you will want to add over the years. Not all racks have the same attachments. The more expensive racks tend to have more options for expansion. So, while it may be a bit more out of pocket today, it may have a better cost-to-use ratio and prevent you from needing a rack upgrade in a few years.  
Or maybe a basic rack is all you know you'll need, and that's OK, too. Even the most basic racks are still super durable and versatile.  
REP's racks are organized by "series."  
The 1000 Series racks are the most basic. There are three 1000 Series racks: the PR-1050, the PR-1000, and the PR-1100. (The "PR" stands for "power rack.")  
The PR-1050 is the smallest and shortest rack, at only 6 feet tall and 4' deep. It's compact and designed especially for small spaces.  
The PR-1000 is another compact option, but bigger than the PR-1050. Its weight capacity is 700lbs, so consider that if you expect to work your way up to super heavy rack pulls in a few years.
The PR-1100 is similar, but slightly bigger (this one reaches 7' tall) and has a multi-grip pull-up bar and a few other added features.  
The 4000 and 5000 Series racks is where we start to get a lot more robust.  
The 4000 Series has two unique racks for specialty needs. There is the PR-4100, which is a squat rack that attaches to the wall and folds out, ideal for home gyms with limited floor space.
There's also the SR-4000, which is a squat rack – meaning it has the frame, but not the whole cage.  
 Then there's the PR-4000, a hard-core cage with a 1,000lb capacity with 1" hole spacing throughout the bench area with 5.8" pinholes. The closer holes throughout the bench area allow for a more precise liftoff height when bench pressing.  
The 5000 Series racks are the top of the line, designed to meet different needs. The PR-5000 is tough as heck, like the PR-4000, but it doesn't have the closer hole spacing in the bench area, and its pinholes are larger. However, this is REP's most configurable system, with a massive attachment ecosystem.  
The other two 5000 Series racks have a different naming system, because they fancy like that. They're the Omni and the Apollo.  
The Omni is the most customizable flat-root rack on the market. Flat feet mean it's stable enough that you don't have to bolt it down to the floor, whereas the PR-5000 does need to be bolted down with some attachments.  
The Apollo is a hefty half rack, also with a flat foot base. Because it's a half rack, it takes up minimal space -- 48"(L)x52.4"(W) with 16" deep crossmembers. By comparison, the Omni is 58.9"(L) with the same width and options for 16", 30", or 41" deep crossmembers. So, if you want the most baller rack that you will never need to bolt into your floor, opt for one of the fancy-named racks. Then decide between those based on your space.  
In addition, there's one more rack option: the Oxylus Yoke. This is a Strongman-style yoke that can be converted into a squat rack. 
For more help comparing power racks, check out this article.  
Step 2: Pick your higher-level details.
Now that you've chosen your rack, it's time to pick the higher-level details. There are three ways to customize it. 
1. The virtual rack builder
2. Preset options
3. A manual build-out
Which option you use depends on which rack you want, as well as when and how you want it. 
Rack Builder
You will use the rack builder for the highest-end power racks: the PR-4000, PR-5000, Omni, and Apollo. This allows you to see how your rack will look as you make selections. You can test different color combos, see how various attachments will look, and even view the virtual rack in your garage or basement.  
Preset Options
You will select from the preset options for the rest, the more basic racks in the PR-1000 series, as well as the squat rack and folding rack. These have fewer options, but you can still pick the color and size (for some) and add on attachments to make the rack your own. Note: The PR-1050 and PR-1000 come as they are, so skip this step if you choose one of them.
Manual Build-Out
The manual build-out is what it sounds like. You can do this for the PR-4000, PR-5000, Omni, and Apollo. 
Pick your rack style and then manually add on crossmembers, uprights, logo plate crossmember through the individual listings. This can be useful if you don't like the rack builder or can't afford a full build-out today, but want to be able to add on over time. You could start with a four-post rack and later add extra crossmembers and uprights to transform it into a larger, six-post rack. You can build the entire rack though individual listings, too -- not exactly the easiest path, but it's another option. 
For a manual build-out, make sure you understand all of the necessary components of a power rack. The specifics are as follows: 
A base PR-4000 power rack should include: 
A set of four PR-4000 Uprights (80" or 93" height options) 

A set of four PR-4000 Crossmembers (16", 24", 30", or 41" depth options) 

One PR-4000 Logo Plate Crossmember

One PR-4000 pull-up bar (1.25", 2", multi-grip, or Globe Front Mount)

One pair of PR-4000 safeties (pin-pipe, flip-down, or strap) 

One pair of  PR-4000 J-cups (standard, round sandwich, or flat sandwich)
A base PR-5000 should include: 
A set of four PR-5000 uprights (80" or 93" height options)

A set of four PR-5000 crossmembers (16", 30", or 41" depth options)

One PR-5000 Logo Plate Crossmember (standard or compact) 
A PR-5000 pull-up bar (1.25", 2", multi-grip, or Globe Front Mount)
A pair of PR-5000 safeties (pin-pipe, flip-down, or strap)
A pair of  PR-5000 J-cups (standard, round sandwich, flat sandwich, or lowered)

A base Apollo Half Rack should include: 
One Apollo base
A set of four Apollo uprights
A PR-5000 Logo Plate Crossmember (standard or compact)
A PR-5000 pull-up bar (1.25", 2", multi-grip, or Globe Front Mount)
A pair of PR-5000 J-cups (standard, round sandwich, flat sandwich, or lowered)

A base Omni rack should include: 
One Omni base (includes multi-grip pull-up bar and band pegs) 
A set of four Omni uprights
One PR-5000 Logo Plate Crossmember (standard or compact) 
One pair of PR-5000 safeties (pin-pipe, flip-down, or strap) 
One pair of PR-5000 J-cups (standard, round sandwich, flat sandwich, or lowered)

The Options 
The specific options also depend on your rack choice, but you may find:  
Style

 


This refers to the framework. For example, the Omni has three styles: four-post (a basic cage), six-post (with weight storage on the back), or six-post (an open rack, with two open posts on the front).

 

Rack height

 


This typically ranges from 80" to 93" (except the short PR-1050, whose height isn't customizable). The squat rack comes in 96" and 103" options. And yes, power rack height is often measured in inches. If this is hard for you to conceive (because when else do you refer to height by inches?), pull up an

inches-to-feet conversion table

on your phone.

 

Colors

 


You can select the color of many aspects of your power rack and sometimes even mix and match colors. Options may include matte black, red, blue, clear coat, green, orange, white, and metallic black. Not all racks come in all colors.

 

Weight storage horns

 


If you choose to add the weight storage onto the back of your rack, you can throw in weight storage horns to, you know, make that space usable.

 

Uprights

 


These are the vertical posts on a power rack. The word "up" gives it away.

 

Crossmembers

 


These are horizontal beams you attach to your rack that add stability and versatility. The word "cross" gives it away. You may find multiple options for the crossmember designs (standard or compact).

 

Safeties 
These are pins or straps on your rack that can catch the bar if you miss a lift. There are three types of safeties: strap, flip down, and pin-pipe. They all have the same purpose. This is a matter of preference.  
J-cups 
These are the hooks that attach to a power rack or rig that hold the barbell in place at a certain height when you're not using it. There are four types of J-cups: lowered, standard, flat, and round. Again, this is a personal preference.  

Pull-up bar

 


Depending on your rack, you may have the option to pick a pull-up bar style. There are six types of pull-up bars that attach to different power racks: raw, a 1.25" (standard, straight), a thicker 2" (straight), multi-grip, globe front mount, and globe side mount.

 
Step 3: Add your attachments.
Now it's time to add on your attachments. If you're using the rack builder, you must complete step 2 before this step – but the rack builder makes it super easy to add attachments (and see how they'll look on your rack).  
Not every attachment works with every rack, and the rack builder takes the work out of it; it's automatically synced with the attachments that fit your rack, and you just select what you want with one click. Note: Some attachments may not yet be built into the rack builder, so if you don't see something you want, check the Rack Attachments page to see if it's there.
If you do this – or if you are building a rack that doesn't use the rack builder feature – make sure you select attachments that are compatible with your rack.   
For example, the new Drop-in Dip Attachment only works on 4000 or 5000 series racks, whereas the Dip Station works on 1000, 4000, and 5000 series racks. Both of these attachments are for doing dips, but they are slightly different. Or if you want to add a lat pulldown cable system, there's the Lat Pulldown (1000 Series) and the Plate-Loaded Lat Pulldown and Low Row (4000/5000 Series).  
Some other attachments include: ISO arms, landmine, leg roller, band pegs, belt squat, front foot extension, spotter arms, monolift, wall ball target, barbell tube stand, utility horn, dual barbell hanger – and if you add a cable attachment to your rack, there are tons of different handles to connect to that.  
With the attachments, everything is clearly labeled for rack compatibility. But don't worry, if you get confused, you can always reach out to customer service for help.