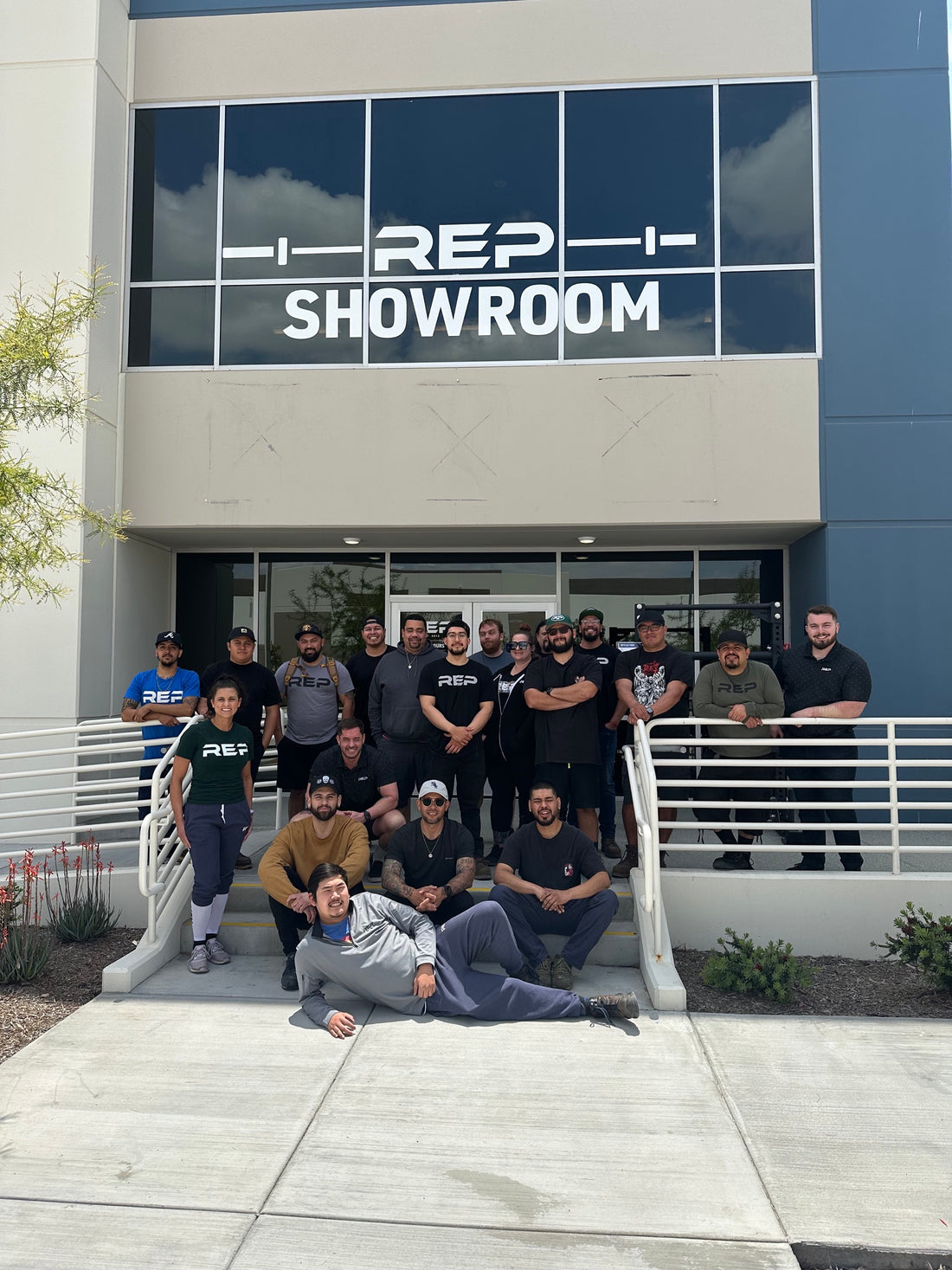 Something happens when you feel that knurling in your bare hands: The barbell comes to life. It's more than just an image online or a dream in your imagination. When you touch it firsthand, the potential becomes a reality.  
That's why REP is more than just an online gym equipment retailer. We want to be more. So, we have two showrooms – one on the West Coast and one on the East Coast – where you can see, touch, and even try the equipment before you buy it. Get expert help in picking the perfect products for your fitness goals, load it into your vehicle then and there, and be using it in your home or commercial gym that same day.  
It's basically a gym rat's playground. Here's everything you need to know to get the most out of REP's showrooms.  
The Showrooms 
The West Coast Showroom is at 24773 Nandina Avenue in Moreno Valley, California.
The East Coast Showroom is at 1700 Harrisburg Pike, suite 200, in Carlisle, Pennsylvania. 
Hours: Tuesday-Saturday: 9 a.m.-5 p.m. Sunday-Monday: Closed
Before You Arrive 
Know Your Measurements
Get measurements of the space available for your new gym. You don't want to get a six-post PR-5000, only to later realize your garage only has space for a half rack.  
Make an Appointment (Or Just Head on In!)
You can just show up during open hours, browse the equipment, and ask questions as they come up. Or you can book a one-hour, in-person appointment with one of the showroom specialists if you want to ensure you get personal help at a certain time. You can also schedule a free, 30-minute video or phone consultation with a specialist.  
You can request a specific staff member, if someone's background really resonates with you. For example, Mark in California has a background in powerlifting. Or Nate in Pennsylvania specializes in creating a space for functional fitness.   
Both showrooms require an appointment for online order pickups.  
Check out the Website
Browse the REP website before you come in so you know what to look for, what stands out, and what your options are.  
What to Bring
Snap a pic of your space and bring it with you. Our staff can use that to help you design your space.
Come dressed in comfy clothes if you want to try out the equipment. (But you don't need to go full bench suit/sweatband/squat shoes/wrist wraps snorting pre-workout.) It's also totally fine if you show in your biznas clothes or your fancy church dress.

 

Bring a credit or debit card, because showrooms don't take cash, checks, or anything that requires a bank deposit. We can also set you up with financial leasing in the showroom.

 
When to Visit
Both showrooms are open 9 a.m.-5 p.m. Tuesday-Saturday and are closed Sunday and Monday. Plan at least a half hour to shop, but more likely an hour.  
Call Ahead
If you're looking for something specific, especially a new or not-yet-released product, call the showroom first to ask about its availability.  
Don't Try to Fit a Power Rack in a Mini
If you want the local pickup discount and want to take equipment home that day, make sure you have an appropriate vehicle. This is heavy gym equipment and you're not going to fit a massive power rack and full set of plates in a Mini. If you don't have the right car, you can place an order and you have 30 days to secure a better vehicle to pick it up. 
When You're Here
Head to the Front Desk
When you walk in the door, don't get distracted by the shiny uprights; head straight to the front desk for a quick rundown of the showroom and to connect wth someone to help.
What Can I Do Here?
Test and try. One of the benefits of a showroom is getting your hands on the equipment, and we want you to explore the equipment. No, really. Put weights on the bar, drop it, use it how you would at home to get an idea what you're getting into. Just no maxing out. 
Plan out your space. See equipment IRL to know how it'll look and feel in your own gym.
Check out unreleased products. In addition to almost everything you can find on the website, you can also find products that haven't been released yet. Get your hands and eyes on the newest innovations and try them out before we even announce their existence. Consider it a VIP, red carpet sneak peek. And while you may be able to try them, new release and preorder products can't be picked up locally. They must be shipped (and therefore aren't applicable for the local pickup discount). This is due to inventory and preorder list logistics.

 

Get new toys. All sales reps work off iPhones or iPads, so they can walk around the showroom with you. If you want to make a purchase and take it home that day, if it's in stock, just tell the sales rep, they'll make it happen. If it's not in stock, you can place the order and return to pick it up when it arrives. Not sure what you want or looking for a gift? You can also buy electronic gift cards in store.

 
Did You Say Discount?
One of the biggest benefits of shopping the showroom is the savings. When you shop in person, you get 10% off purchases of REP brand products up to $2,500; 12.5% off purchases between $2,500 to $7,500; and 15% off purchases above $7,500. Note: These discounts can't be combined with other sales or discount codes. If the item is not in stock but you purchase it that day, you still get the discount – you just need to come back to pick it up.  
Both showrooms also have clearance areas, which contain "scratch and dent" products that aren't perfect. Some have been returned out of the box, some have damaged boxes so they can't ship, and others may have cosmetic damage but are still functional. These items are limited, ever changing, and typically discounted 20-30% in California and up to 70% in Pennsylvania (because the bulk of returns go here).
However, access to the clearance areas is not guaranteed, what's available is unpredictable, and these discounts can't be stacked with any other deals, including the local pickup discount. You may be able to browse the California clearance area, but shoppers aren't allowed in Pennsylvania's -- yet. So, while there are clearance items, don't bank on getting anything specific (or at all) here, because it's impossible to plan for it. But like, maybe.  

When You're Done 
Do a Happy Dance

Because there are few things more exciting than pimping out your gym with new-new. 
Give Us a Shout-Out
Leave us a Google review on the showroom pages pretty please. Don't forget to give props to the person who helped you. That means a ton.

Get Rewarded
When you're done shopping, don't forget to fill out the quick, five-minute customer survey about your experience and how we can improve. This gives you an easy 25 points to your REP Rewards account. Do this while we're loading your new gear into your car. 
Hit the Road
Drive off into the horizon with your new score. Ahh, it couldn't be easier.